Kia Claims Top Mass Market Brand on J.D. Power U.S. Vehicle Dependability Study For Third Consecutive Year
Kia Shines Bright in J.D. Power's 2023 Dependability Study
If you're a Tulsa resident in the market for a new car, J.D. Power's U.S. Vehicle Dependability Study can be a valuable resource. The annual survey evaluates the dependability of three-year-old cars in the US and ranks them based on problems reported. This information can help Tulsa car buyers make informed decisions about which vehicles are most reliable.
The industry-wide study examines problems experienced during the past 12 months by original owners of three-year old vehicles. Overall dependability is determined by the number of problems experienced per 100 vehicles. The study was comprised of 30,062 completed surveys and examined how 2020 model-year vehicles are currently performing in terms of quality, component replacement, and appeal. The study covers 184 specific problem areas across nine major vehicle categories: seats, powertrain, interior, infotainment, features/controls/displays, exterior, driving experience, driving assistance, and climate.
J.D. Power recently revealed their latest 2023 U.S. Vehicle Dependability Study, and for the third year in a row Kia has earned the designation as the number one mass-market brand. Three models, in particular, helped Kia ranked so high on the 2023 dependability study — the Kia Sportage, Kia Optima, and Kia Forte; each model earning the top spot in their respected segment.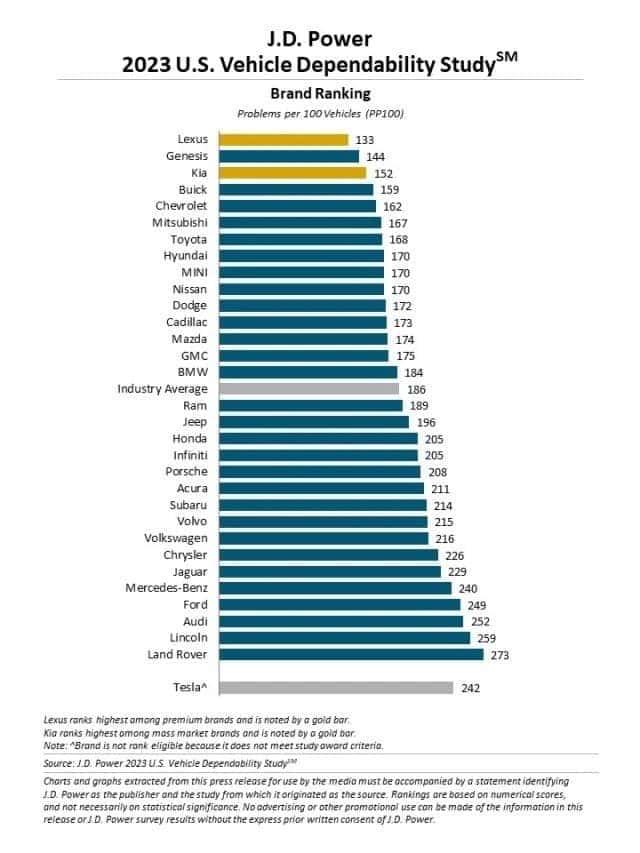 Earning the distinction of the most dependable mass market brand for the third year in a row, in addition to receiving awards for the Kia Sportage, Kia Optima, and Kia Forte shows that Kia has listened to the voice of the customer and is giving them the dependability they desire. These accolades from J.D. Power are a validation of Kia's dedication to developing dependable products. Kia customers have responded with high quality ratings praising their experience after three years of ownership.
Ferguson Kia is proud to offer Kia's line-up of award-winning vehicles to our customer in the Greater Tulsa Metro. We recommend everyone drive a Kia; however, we admit we have a clear bias. By considering the J.D. Power U.S. Vehicle Dependability Study, Tulsa residents can feel confident that they're making a wise investment in a dependable and reliable car. Find your next new Kia vehicle at Ferguson Kia, near Tulsa, OK, and drive with confidence.