Kia Earns Top Spot On J.D. Power's Initial Quality Study for Two Years In a Row
J.D. Power and Associates measures improvements in the auto industry through a number of different consumer surveys. The J.D. Power Initial Quality Study measures the quality of new vehicles after 90 days of ownership. Quality scores are determined by the number of problems experienced per 100 vehicles, with a lower score signifying a higher level of quality. Kia has defended its crown in J.D. Power's latest 2017 Initial Quality Study.
J.D. Power's 2017 Initial Quality Study recognized Kia as the highest-ranking automaker for the second year in a row. In the 2017 Initial Quality Study, Kia recorded only 72 problems per 100 vehicles – that's the best performance within the last 20 years of the study for any automaker. 
Also in the latest 2017 study, Kia had five models with the best scores in their respected segments. Kia's Soul, Forte, Cadenza, Niro and Sorento topped their respective categories. Kia's two newest models, Cadenza and Niro, were outstanding performers in their first model year. The Cadenza achieved the lowest average number of problems among all models ranked in the study. The Kia Soul took home an IQS award for the third consecutive year.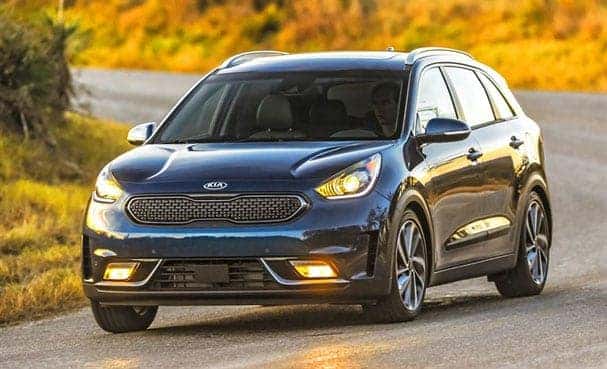 2017 Kia Niro Touring 
This latest achievement for Kia comes after an impressive multi-year string of reliability and quality awards and accolades. Earning back-to-back chart-topping IQS performances, while having the most segment award winners than any other automaker, reflects the level of craftsmanship you'll find inside every car, crossover and SUV Kia builds. 
J.D. Power and Associates' Vice President, Global Automotive, Dave Sargent, believes there are many important lessons for today's automotive consumer in this year's J.D. Power Initial Quality Study stating,
"The Initial Quality Study continues to demonstrate the critical importance of automakers responding to consumer feedback regarding vehicle quality. Any automaker that stands still will quickly start to fall behind. For consumers, the great news is that significant improvements are occurring in all model segments, meaning that you don't have to spend a lot of money to get a quality vehicle." [1]
Ferguson Kia is Tulsa's number one Kia dealer, and the longest established Kia dealer in the great state of Oklahoma! Nobody knows Kia better in Tulsa and Oklahoma than Ferguson Kia. If you'd like to learn more about Kia's award-winning models, such as the Soul, Cadenza, or Niro, give us a call today at 918-258-1800.
Sources:
[1] "2017 U.S. Initial Quality Study (IQS)." J.D. Power. N.p., 21 June 2017. Web. 21 June 2017.