Kia Brings A Plethora of New & Customized Vehicles to the 2018 SEMA Show
Kia has made a big splash at this year's 2018 Specialty Equipment Market Association (SEMA) show. The SEMA Show is the premier automotive specialty products trade event in the world. The SEMA Show draws the auto industry's hottest products to one place, the Las Vegas Convention Center. [1]
This year, Kia brought a plethora of heart-pounding, head-turning vehicles, including:
4 off-road customized Telluride SUVs
The world debut of the all-new 2020 Forte GT trim
The uniquely outfitted 2019 Kia Forte Federation
A customized DUV 2019 Kia Stinger
A customized DUB 2019 Kia K9005
A special-built Queensland Police Stinger Patrol Car
OFF-ROAD INSPIRED KIA TELLURIDE SUVs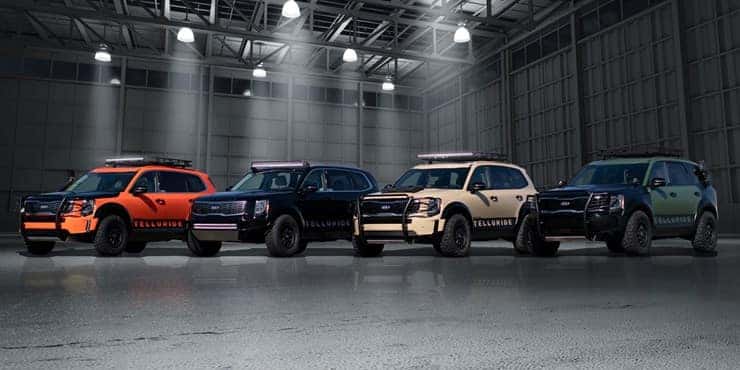 Following the surprising appearance of Kia's newest SUV, the upcoming Telluride, at this year's New York Fashion Week, four off-road customized Telluride models – the "Telluride Baja Glider," "Telluride Desert Drifter," "Telluride Cadet Leader," and the "Telluride Horizon Roamer."
Kia partnered with LGE-CTS Motorsports to conceive the four special-built Tellurides and each vehicle has its own distinctive design and style. Themed after different off-road environments, all four are powered by a stout V6 engine with all-wheel drive. The interiors showcase Telluride's exquisite materials and craftsmanship.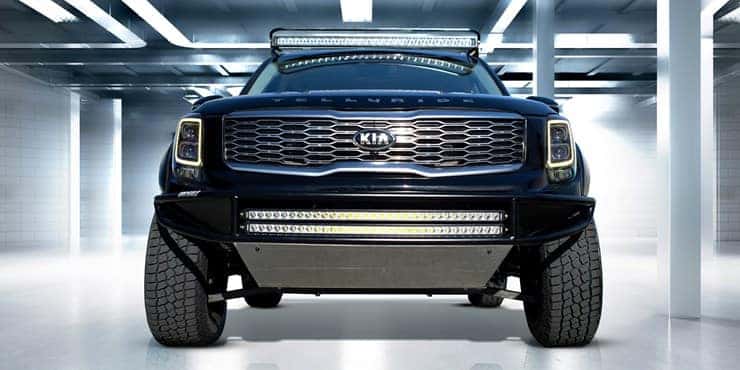 Telluride "Baja Glider" tackles the daunting trails south of the border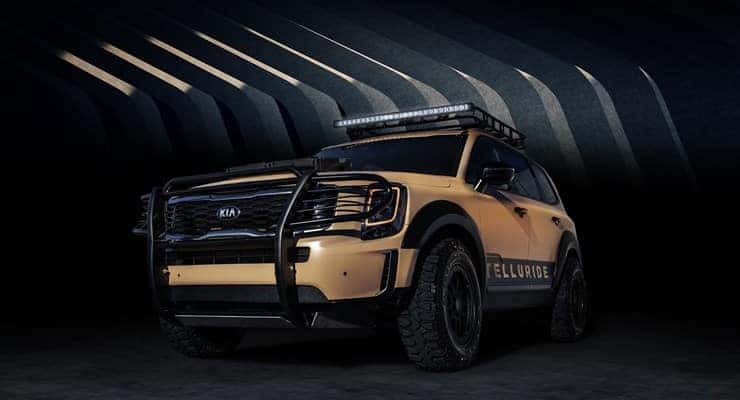 Telluride "Desert Drifter" performs in some of the harshest conditions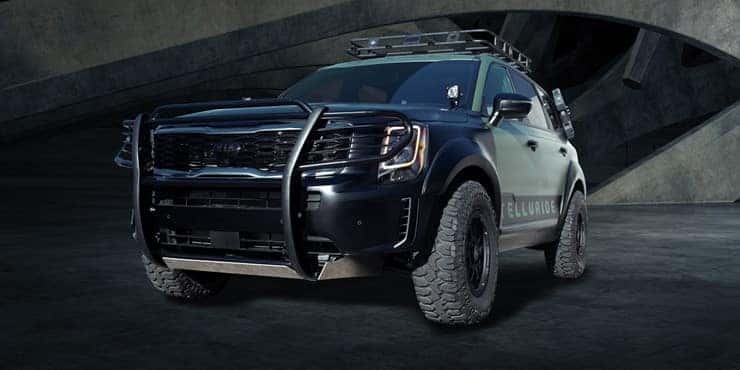 Telluride "Cadet Leader" fearlessly blazes the trail less traveled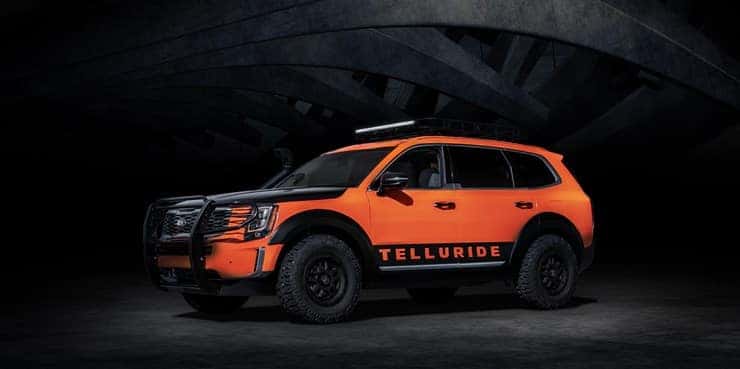 Telluride "Horizon Roamer" harkens to the Rubicon Trail
The 2020 Kia Telluride is planned to go on sale in the U.S. in the first half of next year. Click here to learn more about the all-new 2020 Kia Telluride.

2020 Kia FORTE GT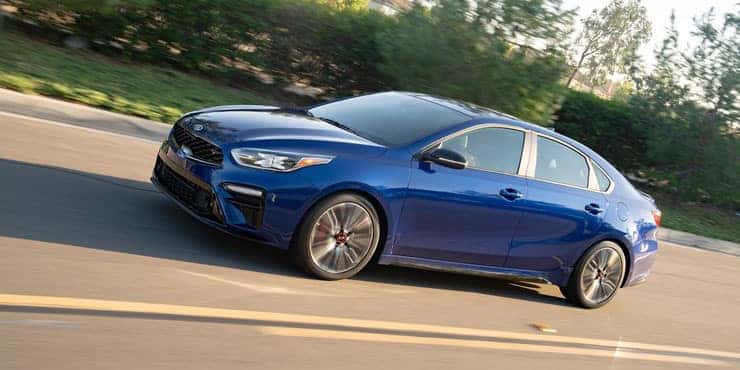 Last year, the world was introduced to the Stinger GT; now Kia welcomes the Forte GT. Kia unveiled the 2020 Forte GT, marking the introduction of two exhilarating GT sport trims new to the Forte family of compact sedans. Race-inspired visual upgrades and added premium amenities are just some of the elements that come as part of the GT sport trims. The GT trim is fitted with a 201-horsepower turbocharged engine, fully independent front and rear suspension and growling sport-tuned exhaust – all direct from the factory to the show floor. The Forte GT will be offered in GT1 and GT2 packages and is set to go on sale next summer.

2019 Kia Forte Federation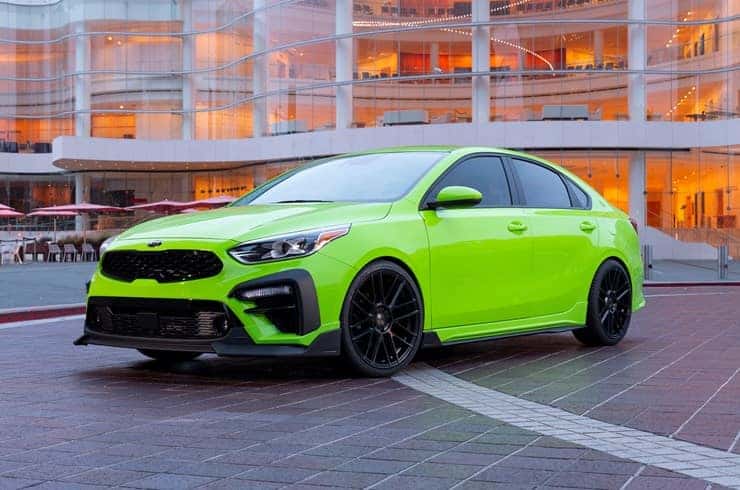 While the unveiling of the 2020 Forte GT has many looking forward to the upcoming release of next year's Forte model, Kia made sure to remind everyone about the capabilities and superb design of the 2019 Forte. Kia outfitted a 2019 Forte with a cornucopia of aftermarket accessories and coated the sedan in Livid Lime paint – dubbed the Kia Forte Federation.
The unique vehicle is outfitted with parts from leading aftermarket suppliers, including aggressive aerodynamic components by Air Design such as front air curtains, front lip spoiler, side skirts, rear diffuser, and a rear deck spoiler. It also features a cold air intake by K&N coupled with an axle-back performance exhaust by Borla.
Meanwhile, progressive-rate sport springs by Eibach, 19-inch "Mosport" wheels by TSW and ultra-high-performance tires by Falken enhance handling. If you're looking to replicate the Kia Forte Federation, Kia says these parts and accessories will be available for purchase from the respective suppliers.

2019 DUB Kia Stinger GT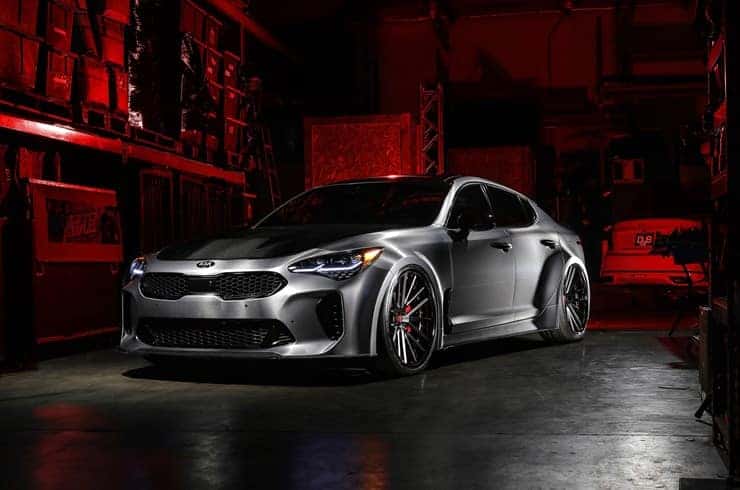 DUB took the aggressive fastback sedan and made a series of menacing modifications that take Stinger GT to unexpected places inside, outside and under the hood. Wrapped in Avery Brushed Steel with carbon fiber accents, the wide body Stinger rolls on 22-inch staggered Dropstars forged wheels riding on 245/30-22 Nitto Tires (front) and 265/30-22 Nitto Tires (rear). A stunning red leather and black suede upholstery upgrade the Stinger's already outstanding driver-focused cockpit, and custom exhaust and air intake give the rapid Stinger GT even more muscle. Meanwhile, a custom audio system, LED lighting, underhood dress-up kit, air ride suspension and DUBiR tinted windows further prove that no detail was missed per DUB's exacting clientele.
2019 DUB Kia K900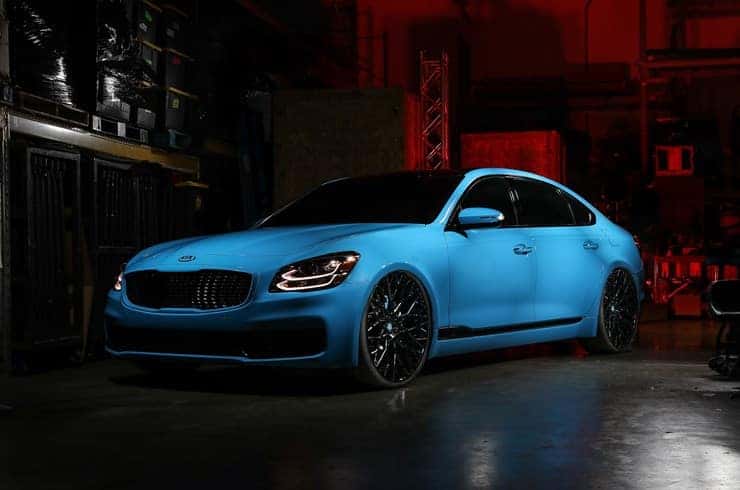 Fans of DUB's distinctive style will love the transformation this luxury salon has undergone. Kia's 2019 K900 provided the perfect canvas for DUB to unleash its creativity on this uninhibited custom ride. Veiled in electric blue, the wide body K900 features gloss black accents and, not to be outdone, the cockpit has been elegantly detailed with custom blue and black leather and suede upholstery, DUBiR tinted windows, and remote-controlled LED headliner and lighting. Riding on an air suspension to provide that perfect DUB look, this custom K900 rolls on 24-inch staggered TIS forged wheels and 275/25/24 Nitto tires. A specially developed multimedia audio system, remote-controlled LED lighting, and MiFi internet capability make the DUB K900 a rolling paradise.
Queensland Police Stinger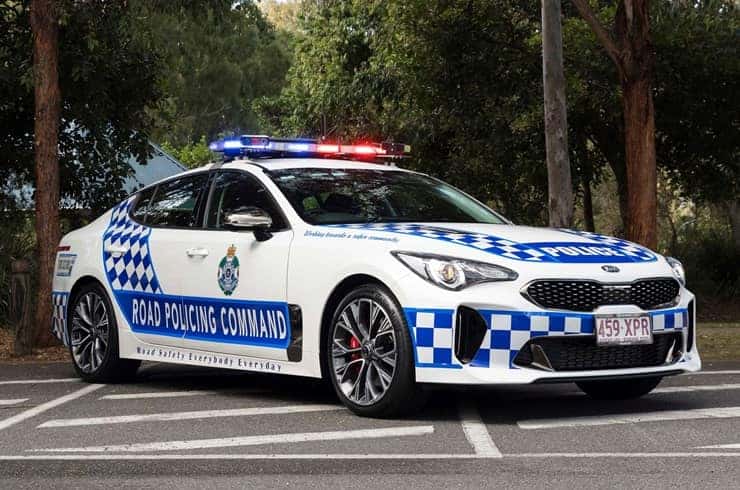 When Australia's Queensland Police needed a new fleet of pursuit vehicles, they went all-in on the 365-horsepower Kia Stinger GT. Citing the fastback's performance during rigorous testing, Queensland police will put 100 Stinger GTs into service over the next 12 months. Testifying to the Stinger's build quality, the only modification Queensland Police made to the Australian-spec Stinger is a plug-and-play wiring loom to accommodate the police electronics. Otherwise everything is standard—suspension, brakes, engine, etc. Special equipment, such as emergency lights, radios, and other equipment was added by Queensland Police.
Sources:
[1]
"About the 2018 SEMA Show." SEMA Show, www.semashow.com/the-sema-show.