Exclusive 2023 Kia Stinger Tribute Edition
Exclusive 2023 Kia Stinger Tribute Edition highlights include:
Production limited to 1,000 units worldwide
Exciting new color and sports-focused interior trim enhancements
Ultimate embodiment of Kia's high-performance Stinger sedan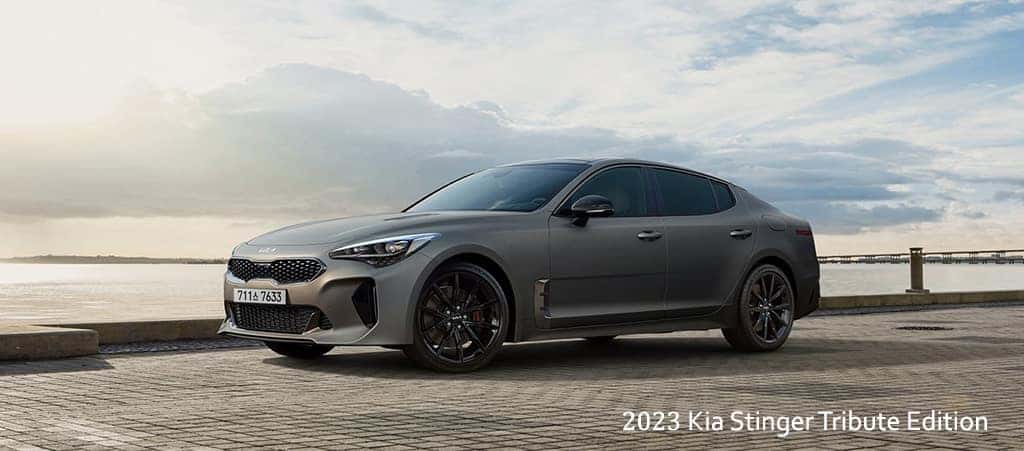 Exclusive 2023 Kia Stinger Tribute Edition
Sad news; Kia America is set to end the production of the Kia Stinger. But, before we say goodbye to the Stinger, Kia is giving fans of the high-performance GT model a farewell tribute in the form of an ultra-exclusive, limited-edition model. The 2023 Kia Stinger Tribute Edition will be limited to just 1,000 units worldwide. The Tribute Edition pays homage to Kia's high-performance vision, and celebrates the Stinger sedan's significant contribution to the Kia brand, as production of the groundbreaking model comes to an end.
The Stinger Tribute Edition elevates the sedan's sporting nature and striking aesthetic appeal to a new level. On the outside, customers are offered the choice of a new Moonscape matte gray paint hue, in addition to the existing Ascot Green paint finish. Further sophistication is provided by the black finish that adorns the sleek housing of the exterior mirrors, the black Brembo brake calipers, and the evocative 19-inch gloss black design wheels.
Inside, a carefully curated collection of design and material upgrades further enhance the sporting ambience of the Stinger's spacious, technology-infused cabin. A newly introduced wasp-shaped emblem is elegantly embedded into the headrest of the seats. This subtle embellishment simultaneously denotes the car's name and signifies the razor-sharp response of its potent 3.3-litre twin-turbocharged V6 gasoline engine.
Customers who purchase the 2023 Kia Stinger Tribute Edition will be continuously reminded of the exclusivity of their limited-edition sedan by a numbered door sill plate on the driver's side provides authentication of exclusivity, confirming that just 1,000 units will be built globally.
If you've been a fan of the Kia Stinger since its introduction in 2017 and have yet to purchase one, or if you have been a Stinger owner and are intrigued by what the 2023 Stinger Tribute Edition offers, contact our team of Kia professionals, today, to learn how you can get behind the wheel of the 2023 Kia Stinger Tribute Edition! Ferguson Kia is Oklahoma's longest established Kia dealer. No one knows the Kia brand better, in Oklahoma, than Ferguson Kia.