Kia Ranks Overall Leader Among All Automotive Brands In J.D. Power 2022 Vehicle Dependability Study
Kia Ranked #1 Among All Auto Brands in J.D. Power 2022 Vehicle Dependability Study
The J.D. Power 2022 Vehicle Dependability Study (VDS) ranks Kia as the overall leader among all major automotive brands (both mass-market and luxury) in the U.S. The achievement substantiates Kia's unrelenting commitment to the craftsmanship, durability, and quality of the brand's award-winning vehicle line.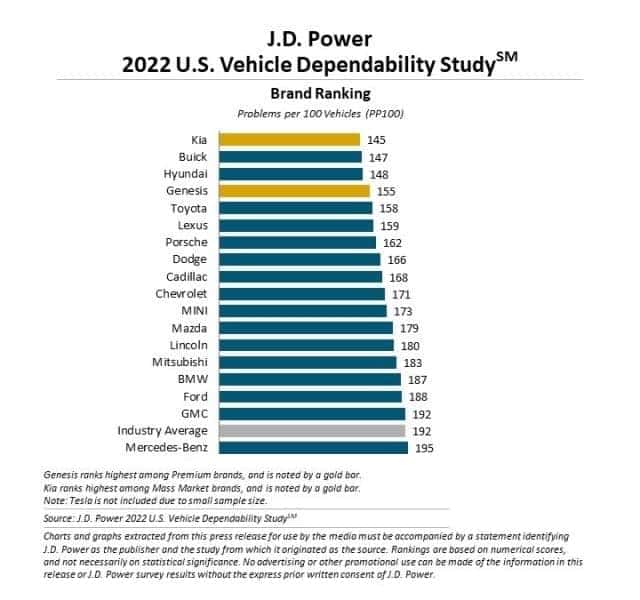 In the 2021 study, Kia ranked the highest among mass-market brands; however, the brand ranked third overall; beat out by two luxury brands – Lexus and Porsche. The 2022 study moves Kia to the number one spot overall, outranking 31 automotive manufacturers, both mass-market and luxury, across the industry.
The industry-wide study examines problems experienced during the past 12 months by original owners of three-year old vehicles (2019 model year). Overall dependability is determined by the number of problems experienced per 100 vehicles (PP100). Thus, a lower score reflects a higher level of quality. Kia claimed top Overall Nameplate honors with a score of 145 PP100.
In addition, Kia's popular three-row Sorento took the top spot in the 2022 study's Upper Midsize SUV category. Positioned between the smaller Sportage and the larger Telluride, the 3-row Kia Sorento can seat up to 6 passenger. The 2022 Kia Sorento's versatility, power, and performance make it an appealing options for our Tulsa-area drivers.
Learn more about the award-winning Kia Sorento, or any other model in Kia's stellar vehicle line, at Ferguson Kia! Ferguson Kia is Oklahoma's longest established Kia dealer. No one, in Oklahoma, knows the Kia brand better than Ferguson Kia.